The Ty Pozzobon Foundation (TPF) is happy to announce our annual Sportsman Banquet!
Taking place Thursday, November 10th, 2022 at the River Cree Resort & Casino's Enoch Ballroom in Edmonton, AB.
This event will be the kickoff to the 2022 PBR Canada Finals at Rogers Place, Nov. 11th & 12th. Featuring a Red Carpet arrival of the PBR Canada Finals qualifiers, the event will also play host to awards and presentations for our 2022 year-end champions. The night will include hot stove interviews with the top riders in the country. Throughout the night you will have the opportunity to bid on silent auction items as well as a live auction with some very special items. TPF merchandise will be available for purchase.
Tickets for the event are $1500.00 per table, with each table seating 8 guests.
Tickets includes a gourmet, three-course steak dinner. Your company logo will run on our big screens throughout the room all night, as well as mentions during the performance.
In addition to the table's we have sponsorship opportunities available as well.
Thank you for considering being part of a great night kicking off the 2022 PBR Canada Finals as well as helping us protect and support the health and well-being of Western lifestyle participants in and out of the arena!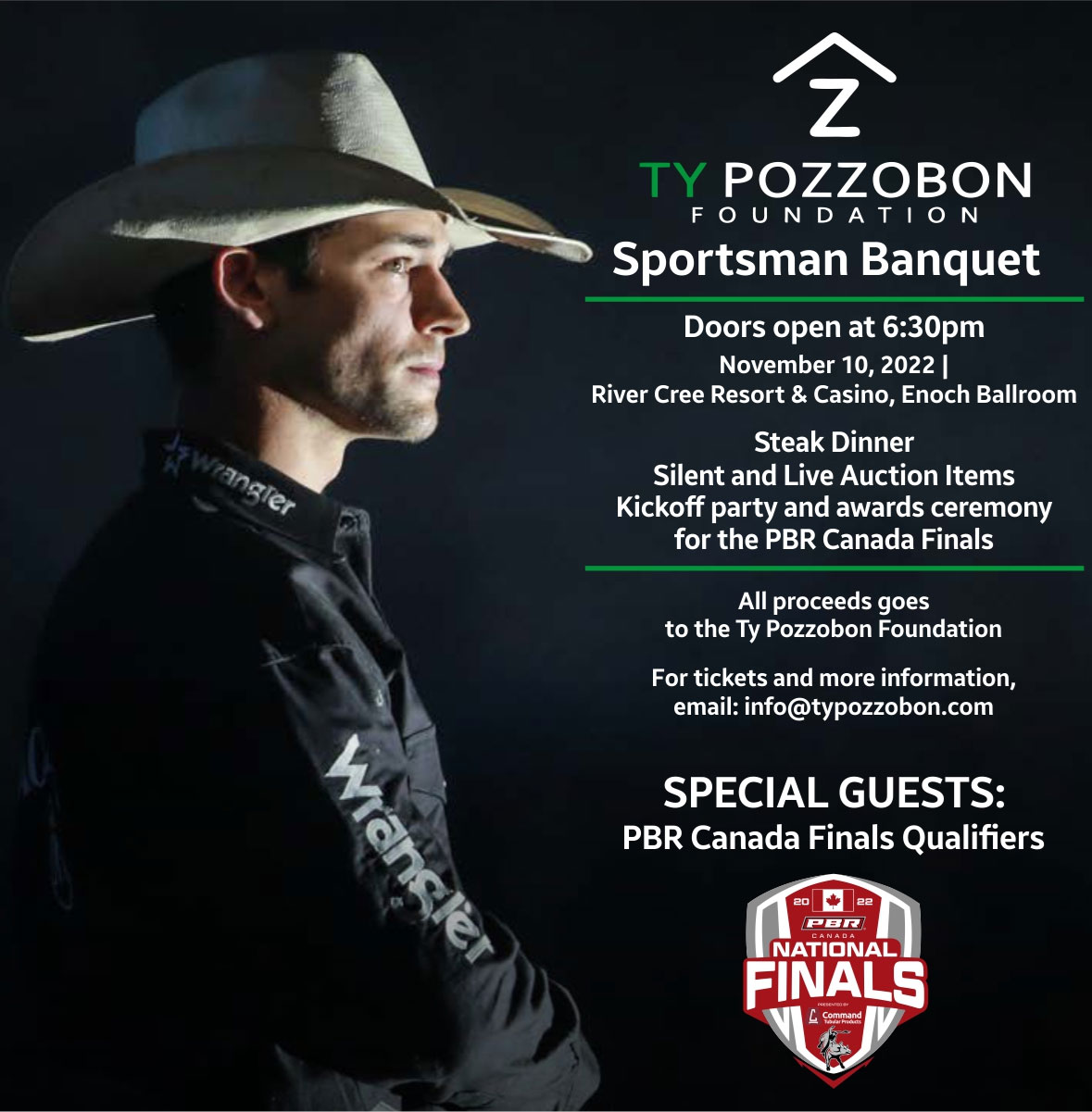 ---
Some background on the Ty Pozzobon Foundation. Our mission statement is " To protect and support the Health and well-being of western lifestyle participants in and out of the arena"
Ty committed suicide in January 2017. Shortly After his brain was donated to the university of Washington. It was there they confirmed he suffered from CTE.  After Ty passed away we wanted to do better for the sport and the people in the western lifestyle bracket. His family and close friends formed the Ty Pozzobon Foundation. We started by getting proper doctors and health professionals at all PBR Canada events across Canada which was unheard of before we did this as well now moving into Rodeo's and the lower levels of the sport. We are big on education and mental health awareness, recently we have been supporting a 10 part series of educational videos specific to western lifestyle people on mental health and proper self care on the road. As well as working on a Business 101 program for western lifestyle participants.
Check us out at typozzobon.com for all of our info. We are not for profit with fully certified charity status. The Ty Pozzobon Foundation's official CRA Business Registration number is: 72274 4091 RR0001.